Introduction:
One of the milestones that we face as parents is when our child starts solids. It's exciting, but this period is notorious for its challenges too. One of the challenges we face is trying to figure out what food combinations to offer after we have offered each food individually. By using baby food recipes that are designed to meet your baby's nutritional needs, you can be sure that your little one will experience a variety of flavours! So let's not keep your little ones waiting and come with me to the kitchen!



Roasted butternut squash and banana puree
You'll want to make this simple puree when you're feeling adventurous and want something different to offer your baby. The roasted butternut squash is a great way to start introducing new flavours, while the banana helps balance out some of the bitterness that tends to come with butternut squash.
You can serve this puree over toast (for older babies), in an oatmeal bowl with yogurt and fruit for breakfast, or as an afternoon snack on its own. You could also try adding some apple or pear if you are feeling extra hungry!
Once made, store it in a glass jar to keep in the refrigerator for up to 3 days.



Banana, pear and apricot mash
This blend is a great option for your little one, as it combines fibre-rich bananas with vitamin C-rich pears and apricots. The pears will also help to soften the apricots, which are known to be slightly hard on babies' digestive systems at first.
Apricots contain potassium; an electrolyte that helps regulate heart function and maintain normal blood pressure levels. It's important to keep a close eye on your baby's stool consistency once he or she starts solids as some foods may cause constipation or diarrhoea - such as too many high-fibre foods like whole grains and fruits like apples, pears and bananas in this case!



Sweet potato and apple puree
1 large sweet potato, peeled and cut into 2-inch chunks (about 1 pound)
1 Granny Smith apple, peeled and cut into 2-inch chunks (about ½ pound)
Place the sweet potato and apple in a medium saucepan. Cover with water by 1 inch. Bring to a boil over high heat, then reduce the heat to maintain a simmer and cook until very tender, 15 to 20 minutes; drain well. Place in a food processor or blender along with 3 tablespoons of water or enough to make a puree. Puree until smooth using an immersion blender (this is my preferred method for blending), or on low speed in your regular blender, stopping occasionally to stir down any lumps from the bottom with a spatula before continuing to blend. Add additional water as needed so that you reach desired consistency—it should be thick but not too runny! You'll also want to remove any core pieces because those can be hard on little ones who aren't used yet eating solids yet.



Zucchini and carrot puree
Zucchini & carrot combination is a great combination for your little one to try. This puree is simple to make and can be stored in the fridge or freezer for future use.
To prepare this recipe:
Steam the vegetables until tender.

Place steamed vegetables in a blender with just enough water (about 1/4 cup) to puree into a smooth consistency so that your baby can easily swallow. You may need to add more water if the mixture is too thick or dry. You can also add some breast milk or formula if needed to reach your desired texture.

Store in an airtight container in the refrigerator until it's ready to serve (up to two days). It's important not to freeze this kind of puree because refrigeration is best at preserving nutrients like vitamin C which may get lost when frozen foods thaw out over time."



Strawberry and banana puree with oats
Ingredients:
2 ripe bananas

4-5 strawberries (organic if possible)

1/4 cup of oats (soaked overnight for easier digestion)
Directions:
Sauté the bananas and strawberries in a small saucepan with a splash of water. Once soft, add the oats. Cook until thickened and fragrant, then puree until smooth. For older babies, you can also add cinnamon or vanilla for an extra kick!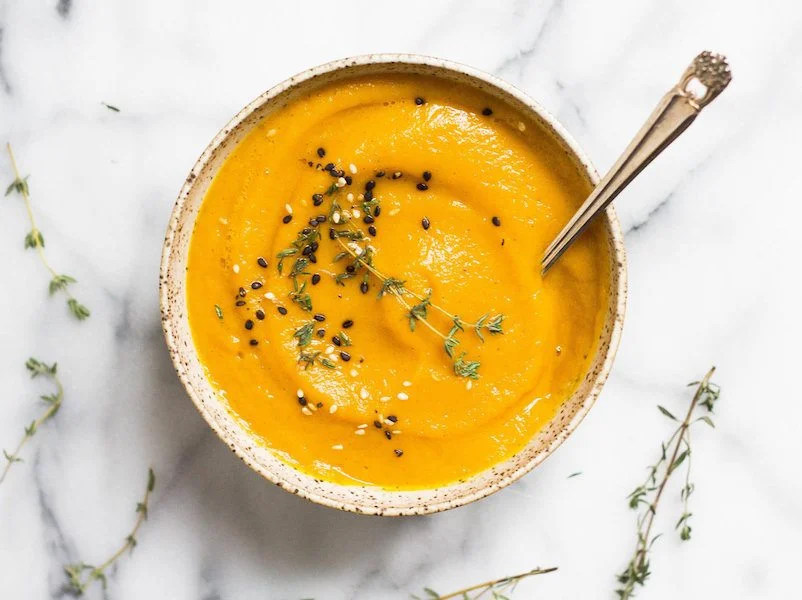 Butternut squash, pear and ginger puree
To make the butternut squash, pear and ginger puree:
Use a sharp knife to cut the butternut squash in half lengthwise. Scoop out the seeds with a spoon and discard them. With a vegetable peeler or paring knife, remove the skin from each side of your squash halves. Cut both halves into 1-inch cubes as you would an orange. 

Peel, core and dice an unpeeled Bosc pear into ½-inch pieces (you can leave on its skin if you prefer). Bring about 6 cups water to a boil in a medium saucepan over high heat. Add cubed butternut squash and the pear, and reduce heat to medium-low; cook until tender. Drain off any excess liquid before blending until smooth.
Spinach, pear and pea puree
This recipe is full of fibre and vitamin C, a good source of protein, vitamin K, vitamin C, thiamin and manganese. This combination makes it a great choice for your baby's first food combination!
Pear puree is easy to make by blending ripe pears (cooked by boiling or steaming) with water or breast milk until smooth. Add some spinach at the end to get an added boost of iron.



Avocado, mango, carrot and coconut yogurt smoothie (older baby)
Ingredients:
1 avocado

1 mango, peeled and sliced into chunks

2 carrots (about 8 oz), peeled and coarsely chopped. 

½ cup coconut yogurt (I used vanilla flavoured Greek yogurt)* Instructions:

Place all the ingredients in a blender or food processor and blend until smooth. Add more milk if you want it thinner!

Tip: Use greek yogurt instead of regular yogurt so there's less sugar. You can store any leftover smoothie covered in an airtight container in your fridge for up to two days, not that you'll have any leftovers with how good this tastes!



Pumpkin and avocado mash with Greek yogurt
This recipe is an ideal choice for those who are looking to add more fibre and vitamins to their baby's diet. The combination of avocado, pumpkin, and Greek yogurt makes this dish creamy and smooth. And you can make a large batch at once because it freezes well in ice cube trays or silicone moulds for later on.
Ingredients:
1 cup mashed pumpkin (or sweet potato)

1/4 cup Greek yogurt
Bake /steam/boil your pumpkin/sweet potato until soft and then puree until smooth. Puree your avocado afterwards and offer it unmixed to your little one at first in order for him to get a mouthfeel for each food. Then mix them together for your little one to explore the combination of flavours. Top each spoonful with some greek yoghurt for some added goodness!
Baked sweet potato fries (older babies on finger foods)
Simple yet nutritious, what more can we say? Preheat your oven at 210 degrees Celsius. Slice the sweet potatoes into the finger-sized wedges- big enough for your little one to hold in their hand with the top half sticking out. Coat them in a tiny bit of olive oil/melted butter, then place it on a lined baking tray. Bake at 210 degrees Celsius for about 20 minutes or until tender.



Apple slices with cinnamon-coconut dip
Serving foods with a dip is one of the many fantastic (and fun!)  ways to introduce new foods to your little one especially if they're a bit apprehensive of it to begin with. 
Peel and slice 1 apple into finger-sized wedges. Steam the apples until soft. 
To make the cinnamon-coconut dip: In a small bowl, mix together 1/4 cup unsweetened coconut cream with 2 teaspoons of ground cinnamon until evenly coated; set aside until serving time (or refrigerate for up to 3 days). Serve immediately and show your little one how to dip the apple slice into the delicious dip!
Peach with Bircher Muesli (older babies 7-8 months old)
Ingredients:
1/2 peach

1/2 cup or 100 grams of plain, full fat yoghurt

1 tsp of chia seeds

1 tsp of seed sprinkle *

1tbsp of rolled oats
Finely grate the peach (or use peach or apple puree)
Place yoghurt in to a jar or container that has a lid. 
Add chia, see & nut sprinkle, oats and peach and stir through. 
Leave overnight in the fridge.
Serve.
*Seed Sprinkle recipe (source of protein, fibre and healthy fats)
1/4 cup of (walnuts, almonds, and flaxseeds), 1/2 cup of (pumpkin seeds and sunflower seeds) and 3 tablespoons of chia seeds. Put each ingredient into a food processor or high speed blender and grind until very fine with no pieces. Mix ingredients together and store in an airtight jar/container. 
You don't need to feed your baby store-bought food when you can create homemade baby food in many easy ways.
It is not a secret that store-bought baby food can be more expensive than homemade baby food and as parents, we'd prefer that our little ones have homemade foods that do not contain added sugar and salt as well as preservatives.